Lessons on Sportsmanship from South Korea
South Korean sports fans are long on indignation but very short on sportsmanship
August 24, 2004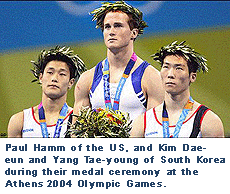 The bad karma of sports is afflicting South Korea. The latest glaring example is the gold medal obtained by Paul Hamm of the Unites States over two South Korean gymnasts in the all-around men's gymnastics competition at the 2004 Athens Olympic Games. Yang Tae-young admittedly ended up with a bronze medal because of a scoring mistake that failed to credit him with one-tenth of a point, which would have been enough to move him from third to first place in the event.
Knowing that a clear mistake was made, who should get the gold medal? This is actually an easy question to answer. The rules dictate that if a scoring mistake is made, a protest can be lodged before the next rotation starts. The South Korean delegation failed to do that and therefore it is over: gold for Paul Hamm. This of course has not stopped the South Korean camp from filing formal protests with the International Federation of Gymnastics, requesting a duplicate gold medal for Tae-young, and even suggesting that Paul Hamm give up voluntarily his medal "in good sportsmanship".
All of this is ridiculous. Anyone who has played or judged competitive sports knows that scoring mistakes are made and that there is just no way to fix them once the moment is gone. There are two solid reasons for these rules. One is that we simply can never know how a game or event would have progressed with the different score. Would Hamm had taken more risks if he is further down in the scoring? Would Tae-young had felt more pressure if he sees himself in the lead? There is just no way of knowing, and therefore it makes it unfair for everyone to go back and change a score after the fact. The second reason is that if sports allow scores to be revised, the parade of protests, requests and, God forbid, lawyers would make us take an average of two years to decide any major event.
But more interestingly perhaps in this Olympic-size mess is the reaction of the South Korean sports fans and of the gymnast himself. Tae-young took off his bronze medal from around his neck as soon as he stepped off the podium, and then proceeded to push for protests to be filed while publicly denigrating the achievements of Paul Hamm. Apparently, he found no fault either with his incompetent coaches, who failed to realize the scoring mistake and could have fixed it, or with his own inability to produce higher scores to win the gold uncontested.
For their part, South Korean fans organized public protests, newspapers called for "a strong nationwide reaction to reclaim the gold medal that we have been robbed of", online activists called for the IOC website to be flooded with protests, and online forums such as Naver.com filled with anti-American diatribes and demands for Paul Hamm to give up his medal "voluntarily".
Many of these fans quickly recalled the recent disqualification of skater Kim Dong-sung, who appeared to have won a gold medal at the Salt Lake 2002 Olympic games, only to see American Apolo Ohno be awarded first place by the judges after the race. The upheaval then by all of these fans was similar in intensity and animosity.
What is surprising here is the incredible double standard that these fans, athletes, and newspapers hold. For it was also very recently that South Korean teams and athletes were part of what can be considered some of the most shameful moments in major sporting events.
During the 2002 Soccer World Cup, the South Korean team, an absolute nobody in the soccer world, advanced to the semifinals of the tournament with consecutive controversial wins over Portugal, Italy and Spain, three of the world's soccer powerhouses. All of the wins were due to inexplicable refereeing decisions made by unknown referees from poor third-world countries. Portugal saw one of his players ejected, Italy saw an ejection and two goals disallowed, and Spain took the cake in its quarterfinal match with three goals disallowed and another four blown dead by ref whistles as the ball was ready to go into the goal.
And what was the reaction in South Korea then? Absolute gloating. Fans, newspapers, and politicians alike proclaimed the team as the best in the world while the rest of the nations, who knew better, just ignored the ruckus the best they could. There were certainly no calls then from South Koreans to "voluntarily" give up their dubiously earned spot, nor there were any notions entertained that the victories were tainted. Contrast that, for example, with the reaction of the US press to the gymnastics controversy where Paul Hamm's medal was immediately labeled as "tarnished".
And whatever happened to South Korea's World Cup soccer team since? Well, their Dutch coach immediately resigned knowing that such "success" was not likely to ever be repeated, the team itself dropped 20 places in the FIFA rankings in two years, the referees from the Spain match were seen blowing $10,000 in shopping sprees in Miami-one of them even paying off his house mortgage in cash-and, the star Korean players mostly unsuccessfully sought contracts with European clubs with the two lone signees languishing deep in the bench of last place teams.
This World Cup fiasco had already been preceded by another shameful episode in the Seoul 1988 Olympics where US Boxer Roy Jones was literally robbed of a gold medal in his boxing match against a South Korean opponent. The story and reactions then were similar to the World Cup ones. The South Korean press and fans called for "respect" for the officiating decisions-a respect they seem to be lacking now-and proclaimed their boxer as the best in the world. There was much silence from them afterwards when it was shown that two of the judges had taken bribes to fix the match in favor of the Korean fighter. Roy Jones went on to be a world champion, the Korean fighter never achieved anything else but the ignominy he so richly deserved.
What all these fans and journalists clearly lack is a sense of sportsmanship. One must always win with grace and lose with dignity, but what we have seen from them is win with deception and lose with contempt. They fail to realize that in sports memories are very very long, and that bad sportsmanship creates a bad karma that is likely to pursue you and victimize you time after time.
Take this for a measure, or even just to flame conspiracy theories. There were two gymnastics judges responsible for the scoring mistake that cost one-tenth of a point to Yang Tae-young. Guess where these judges come from? One is from Spain and the other is from the United States. There's absolutely no evidence of intentional wrongdoing here, but for sure it is a good example of the wheels turning, as they always do, in sports. It remains to be seen if it can also be a lesson in sportsmanship that it is finally learned.